Today we honor the brave people who have served in the United States Armed Forces. We are proud to share the stories of several veterans who are also members of our RIVA family. To these fine folks and all the other active and retired military members we work with every day, thank you for your service!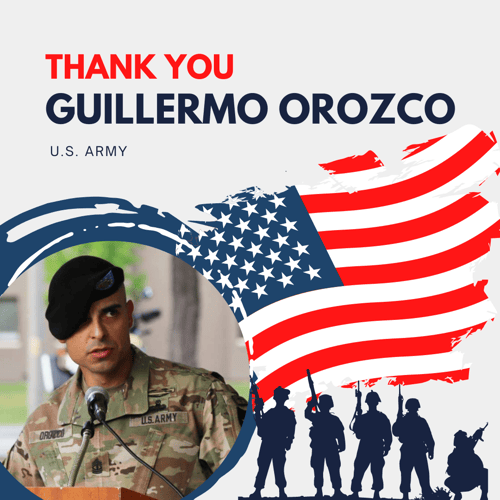 Guillermo (Will) Orozco, aka "First Sergeant O," aka "Bean Dip" served for 17 years. He was an E-8/First Sergeant in the U.S. Army/Airborne Infantry. He decided to join the military when his younger brother enlisted and was heading into the invasion of Iraq. Will couldn't sit back while his little brother was in danger, so he also joined to protect him. Will was an OIF and OEF combat infantryman, and feels blessed to have served from Rifleman (E-1) to Company First Sergeant (E-9).   
Will's training included jumping out of airplanes, and among his best memories from his service are the long flights (ranging from 2 to 18 hours) and midnight jumps into Australia, Alaska, Poland, and Ukraine. Will also had the opportunity to attend the WWII paratrooper reunion. Will said, "The Old guys loved seeing us—a new generation of paratroopers doing what they did in WWII!!"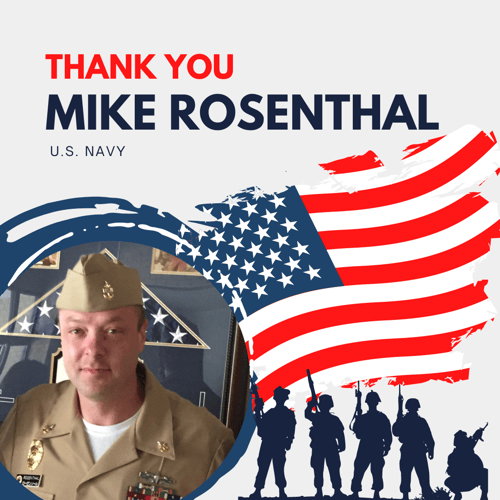 Mike Rosenthal, aka "Yo-Yo," aka "New York," aka "Yorkie" served for 24 years in the U.S. Navy where he was an E8 Senior Chief Petty Officer. He enlisted in the Navy because he wanted to do something bigger than himself and to see the world. He entered the Navy as an E-1 and retired as an E-8. He served the first nine years as a Radar Operator (Operations Specialists) on two ships (home ported in Pearl Harbor). During the last 15 years of his career, he worked as a Naval Law Enforcement Specialist (Master-at-Arms) at five duty stations located around the world, including in Italy, Spain, and Japan. He concluded his career as a lead Instructor at the Law Enforcement Academy located in San Antonio, Texas. 
His most memorable moment in the military was on April 24, 1995, when he had a port visit in Sydney, Australia and met the love of his life, Karlynne. Mike said, "After only being physically together for 13 days, we got married (not a popular decision with some family members at the time). We are going on 25 years of marriage and have 2 children that are 20 and 22 years old."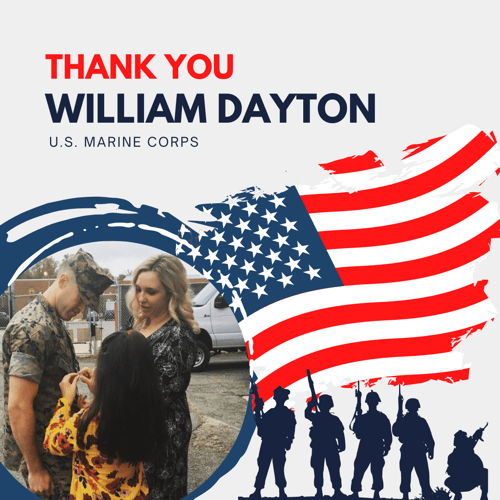 Liz Dayton is the proud wife of William Dayton, a former Sergeant in the Marine Corps. William worked for four years on the Chemical, Biological, Radiological, and Nuclear Defense Program. Liz's experience as a military spouse was wonderful, and continues to be today as the spouse of a veteran. She feels an instant bond with other military spouses who know the struggles and hardships that come along with being married to someone who is or was active duty. The Marines helped provide stability for Liz and Will's family. Liz feels that she would not be where she is today if she had not had the military family support available to her while she obtained her Master's degree in Human Resources Development from Villanova University. 
Liz's favorite memory with Will during his time in the Marines was the day he was pinned and promoted to a Sergeant. Liz said, "Will worked so hard to get to that point, and our daughter, Bella, and I got to be a part of the ceremony where he was promoted. It was so special to have his friends there and be a part of such a big accomplishment."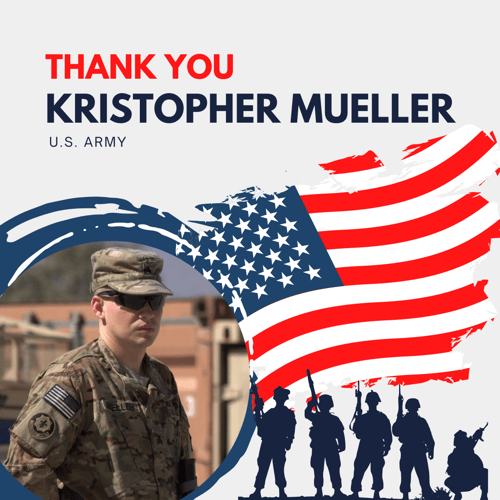 Kristopher Mueller served for 10 years as an active duty member of the Army where he was an SSG-Staff Sergeant. He was inspired to join the military by his younger years as an Air Force kid. It took a long time to figure out what he wanted to do with his life, but joining the military was something he always knew he wanted and needed to do. Kristopher was an Intelligence Analyst throughout his career and worked both in Staff Sections (S2 – Security and Intelligence) and MI units. He was stationed at Fort Hood (twice), Korea, Germany, and deployed twice to Afghanistan (both one-year tours). 
His most memorable moment from his time in the Army is from when he was a young Private (PV2/E2). Kristopher said, "I was approached by our First Sergeant, and he said 'Mueller, you're too quiet, you scare me, so I'm making you our Battalion BOSS Rep. (Better Opportunities for Single Soldiers).' I was never really social before, both shy and timid in new settings. It was nice to have someone caring enough, that looked after us, to help break me out of my shell and [who] really helped me become the person I am today."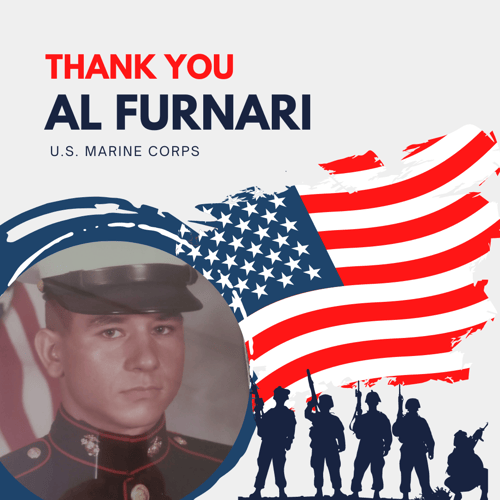 Al Furnari, aka "Papa Smurf," aka "Munchkin," served for 17 years in the Marine Corps where he was a Chief Warrant Officer 2. He enlisted because he was unsure of what he wanted to do after graduating from high school. His first active duty station was 29 Palms in California. There, he supported the Communications Electronic School for the first two years, then transferred to Camp Pendleton after he was promoted meritoriously to Sergeant.  Shortly thereafter, he was awarded a scholarship to the University of New Mexico in Albuquerque. During Desert Storm, Al was transferred overseas to Okinawa, Japan, where he supported the 3rd Counterintelligence Team. He went back to Camp Pendleton, was promoted to Staff Sergeant, and attended the Career Course (leadership training) at El Toro in California. He was then selected for Drill Instructor School in San Diego and finished his tour as a Drill Instructor after two and a half years. At that time, he was transferred to Headquarters for the Marine Corps at the Navy Annex by the National Cemetery and promoted to Gunnery Sergeant. He attended the Warrant Officer Basic Course in Quantico, Virginia, and was then sent through the Personnel Officer's Course in Camp Lejeune, North Carolina. Al went to Camp Pendleton for the last time as a part of the First Service Support Group and was promoted to Chief Warrant Officer 2. 
Al's most memorable moment from his time in the Marines is when he received a Navy/Marine Corps Achievement medal for his work as a Drill Instructor at the Recruit Depot in San Diego.  Al said, "I received this award while at Headquarters. My boss asked a One-Star General down the hall to give me the award in a small ceremony with my parents involved. The General recognized my father and asked him to join the General in his office. The ceremony was held up so the two could reminisce. My father was a barber at Headquarters and had cut the General's hair when he was a young Captain. Wow, who knew!"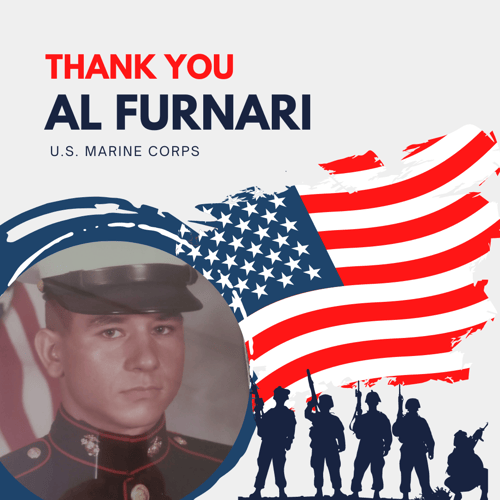 Shaun Swartz, aka "Swartzie," served for 10 years active duty in the Air Force where he was a Captain, and 4 years in the Air Force Reserve. He enlisted because he wanted to leave his small hometown and be a part of something bigger. His grandfather was in the Navy and died in a plane crash, so Shaun also felt an intrinsic connection to service. He began as an enlisted Munitions Systems Apprentice for F-16, F-15, and F-117 aircraft supporting Operation Allied Force while stationed at Aviano AB, Italy. After going to the Air Force Prep School and graduating from the Air Force Academy, he served as an Aircraft Maintenance Operations Officer for KC-135 Stratotanker aircraft. He was selected as one of five Air Force Aircraft Maintenance Officers for the ALEET/Acquisition Leadership Experience Exchange Tour as an Acquisition Program Manager. Next, he was assigned to Hanscom AFB, MA where he served as an Acquisition Program Manager on a $1.9B ACAT II program (Joint STARS (Surveillance Target Attack Radar System) Re-Engining Program) and deployed LOCAP III to IV Transition Operations Officer supporting DCMA in Northern Afghanistan. He then served for four years in the Air Force Reserves an Aircraft Maintenance Operations Officer for C-17, and C-5 aircraft. Finally, he served as an Executive Officer to the Air Force Scientific Advisory Board supporting Secretary of the Air Force and Chief of Staff of the Air Force directed studies, including one on NC3 (Nuclear Command, Control, and Communications) at the Pentagon. 
Shaun's best memories from his time in the military are graduating from the U.S. Air Force Academy and a successful mission during Operation Enduring Freedom. Shaun said, "While deployed to Diego Garcia, British Indian Ocean Territory, I co-led aircraft maintenance and flight line operations for 75 maintainers supporting KC-135 combat aerial refueling missions for B-52 bombers going into Afghanistan conducting combat operations. One evening we got a short-notice order to generate and launch our KC-135 takers to support a critical B-52 mission to bomb a cave complex where sensitive Taliban targets were operating from. I led the operation to generate and launch all six of our KC-135s within 30 minutes to support the three B-52s that were conducting the bombing mission. The mission was a success with the target destroyed and all aircrews returning safely to base. This was one of the greatest displays of teamwork I have been a part of, and I was extremely proud of my leadership for this no-fail operation."