RIVA and NOAA: Blending Science and Technology in Service of Protecting Our Planet
2020 gave the Northern Hemisphere it's hottest summer on record. Our warming planet is facing radical changes – from the increased severity of forest fires, stronger, more frequent hurricanes, to flooding and rising coastlines. The National Oceanic and Atmospheric Administration (NOAA), plays a crucial role in documenting and responding to the effects of climate change.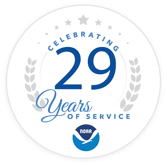 Our commitment to the environment started long before RIVA incorporated in 2009. In 1991, SM Resources Corporation (SMRC) was founded with the catch phrase, "We embrace science to engineer a smarter, more sustainable world." SMRC established themselves as a key contractor at NOAA with an impressive portfolio of work spanning decades. In 2019, RIVA acquired SMRC's NOAA accounts, including then CEO, Neelu Modali. Neelu joined RIVA's executive team and is currently serving as Chief Operating Officer.
In the early days of SMRC, Neelu established the company as a NOAA partner through relationship building, leveraging his connections in the academic community. He built up an impressive staff of NOAA research grant winners, including scientists and engineers which established SMRC as an authority in the industry. The original SMRC team developed the prototype of the VASS system for NOAA's Climate Program Office which helps scientists understand vulnerability risks posed by climate change. The team also helped modernize global climate IT systems for NOAA NESDIS which collects data used to create weather forecasting tools and software.
As they grew their capabilities, the team supported the Office of Satellite Ground Services with development, testing, integration, and transitioning of NOAA's POES and GOES satellite programs. Our team provided the GOES-R satellite with Scientific C++ programming and studies of all available global monitoring systems to develop new and improved solutions.
Today, RIVA supports five of the six NOAA line offices as a vendor on NOAALink, ProTech Weather, and ProTech Oceans contract vehicles, blending RIVA's strength in technology with SMRC's unmatched authority in weather and ocean sciences. Our scientists and programmers develop products and solutions associated with NESDIS monitoring programs focusing on tracking coastal and ocean variables for the past eight years as a part of CoastWatch/OceanWatch (CWOW). CWOW collects data including: coral bed health, currents, winds, temperatures, and coastlines. Beyond CWOW, our team has developed numerous databases used for future scientific studies, while technologists in our Innovation Lab work alongside NOAA scientists to develop new ideas that turn into future solutions. Thirty of our RIVA colleagues are in the field today supporting NOAA- tracking forest fires, collecting ocean data, keeping weather-tracking satellites in the sky, and more.
As global temperatures rise, NOAA is working harder than ever to monitor the rapid changes occurring in our oceans and atmosphere, while tirelessly keeping the public informed of the changing environment around us. We are at a critical moment in time. If we don't work quickly and collaboratively, guided by the scientists and data from NOAA and other agencies, the damaging effects of climate change will be irreversible. We stand ready to help shape a sustainable future for our oceans, atmosphere, and beyond. RIVA is excited to celebrate the 29 year legacy of SMRC at NOAA and NOAA's 50th anniversary! We look forward to the next 50 years together, merging science and technology to create innovative solutions to protect our planet and advance the global response to climate change.
Goes-East satellite image of Hurricane Sally on September, 14, 2020.