Every day, leaders find themselves in decision-making scenarios without the information needed to make an informed decision. Without a complete picture, leaders rely on their gut or past experiences to make decisions. Often, decisions are made with little understanding of the potential downstream effects and how a singular decision may impact the organization, department, or individual either positively or negatively.
It doesn't have to be this way! Organizations who focus on generating actionable insights from data can support leaders and improve decision-making quality. To deliver actionable insights, organizations must approach decision making from an enterprise view, considering an organization's entire tech stack, cataloging all elements of data entry/capture, and how they support organizational decision making.
An Enterprise View
A typical tech stack is comprised of six areas which facilitate an organization's ability to make decisions, conduct audits, document action items, and other outcomes (Figure 1):
Human Centered Design

Edge

Business Systems

Hybrid Cloud & Automation

Decision Support & Insights 

Cybersecurity 
To better understand the connection between technology and insights, think about your decision support segmented into three layers (figure 2):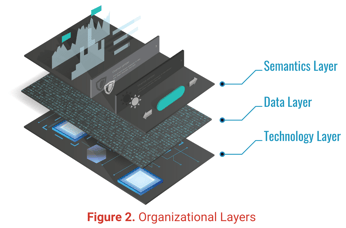 1) a Semantic Layer, 

2) a Data Layer,

3) a Technology layer (figure 1). 
The Semantic Layer, or the "business layer," maps complex data into familiar business terms such as revenue or customer. The Data Layer, commonly called a data pipeline, is the key to generating actionable insights from data. A healthy data pipeline, in-sync with a data strategy, maximizes an organization's technology stack. It does so by expanding its use to improve business and mission outcomes while simultaneously streamlining the information gathering process.
Today, most organizations have very manual data gathering processes which impede their ability to make timely decisions. By leveraging modern technology solutions, many data collection processes can be automated–saving time, resources, and employee frustration. Ultimately, leveraging technology and data integration transforms a leader's ability to make decisions, allowing them to become proactive and escape the endless reactive cycle many leaders find themselves in today.
Data Capture
Typically, data pipelines are hosted in the Cloud or a hybrid on-premises-cloud environment. The data pipeline starts by ingesting data from all or some business systems. 
The Data Pipeline (Figure 3) is comprised of:
Data Engineering,

Data Storage,

Data Analytics,

Data Science,
All of which are supported by
Data privacy,

Data Operations or "DataOps" which operationalizes a technical architecture, and

Data Leadership which addresses data governance, data management, & data strategy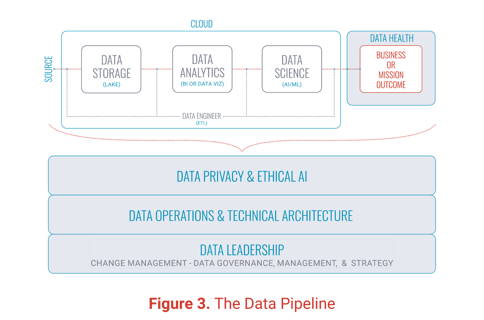 Utilizing data workflow automation platforms such as Databricks, or no/low-code solutions such as Apache AirFlow or NiFi, coupled with AI/ML solutions, greatly improves data pipelines by increasing speed-to-value. Increasing speed-to-value is only useful if an organization is creating actionable insights. Speeding up the consumption of poor insights does nothing but allow organizations to make wrong decisions faster. How do you prevent this?
Organizational Decision Making
Using an organization's goals and objectives, you can accurately assess and predict mission outcomes that empower leaders to make decisions at the speed-of-relevance, meaning they have the right data at the right time. With the right data, ML models can derive actionable insights – or significant predictors of the target variable in question. (Figure 4).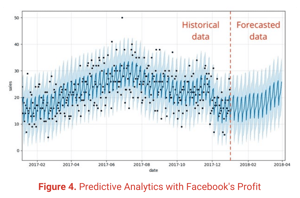 Typical questions leaders make decisions on are:
If I had a $1 to spend, where should I spend it?

Do we have a competitive capability mix?

Are we meeting our strategic objectives?

Are we delivering our mission efficiently and effectively?

Are our capabilities meeting our objectives?
From here, the art of turning data into actionable insights begins. To build actionable insights, ask yourself: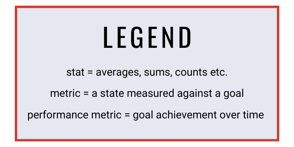 Do I just have a stat or a performance metric?
Does the metric reveal a gap?

Does the gap suggest actionable insights? 
---

---
Actionable Insights
With this conversion, decision makers can easily assess progress at any point in the year. Leaders can compare today's output against their overall goal; they can also compare today's output to last year's point in time. If a gap exists leaders may take time to reflect and ideate on potential actions they may take to close the gap. They can consider:
Is the output an anomaly or is it the norm?

How does this compare to the same time last year? What about the adjacent days, weeks, or months?

Is there a pattern emerging?

Is there seasonality or periodicity to the pattern?
These insights create actionable possibilities, for instance, a leader may now be able to answer the following questions:
Can I hire more people?

Should I adjust processes?

Is there something we should stop doing?

Should I adjust output based on the seasons?
Converting data into actionable insights enables leaders to act based on insight and make more informed decisions. Learning to generate actionable insights is an organization-wide initiative. An organization must understand the relationship and interdependency between technology, data, and semantic layers related to organizational objectives and goals. Powered by automation, every organization can learn to create actionable insights to enable speed-of-relevancy and improve business and mission outcomes.