RIVA believes that our strength as a company comes from our Employee-First philosophy, which has brought us a first-class workforce. One of RIVA's rock stars is Tyann Pender, a Senior PMO Support Specialist on RIVA's Systems Engineering and Technical Services (SETS) contract with The National Oceanic and Atmospheric Administration (NOAA). Her team of engineers work on projects that have far reaching implications, such as predicting national disasters like flash foods, forest fires, and hurricanes. 
Tyann is also a member of RIVA's Alpaca Ambassador Program, in which energetic and outspoken individuals from RIVA's vast talent pool act as the bridge between corporate employees and those stationed throughout the country.  Our ambassadors engage with our dispersed employee population and help to connect those individuals to HQ events and news. They also curate various content pieces based upon the work being done on the ground.  
Tyann's efforts as an Alpaca Ambassador and PMO Specialist far exceed the expectations set forth in both roles. She is always looking for ways to build team morale, promote health and wellness, increase efficiency, and incorporate RIVA corporate culture into her team. One initiative she started is a monthly newsletter that promotes colleague bonding, a culture of learning, and continuous improvement.  
A few of the practices that Tyann has implemented to provide the best possible work environment for her team are detailed below, and we encourage you to use these ideas in your own workplace!  
Employee Training and Professional Development
Continuous learning is one of our most valuable tenets here at RIVA. Tyann acknowledges her team's right to learn and promotes a culture of employee development that considers each person's needs. Tyann encourages her team to take advantage of any "slower" periods of time to take advantage of learning opportunities. She creates opportunities for growth by providing several suggestions for relevant online trainings every month in her newsletter. Some of the courses offered include:  
Professional development opportunities like these allow employees enhance their value to the team and ensures that they remain competitive in their career field.  
Team Bonding 
Culture at RIVA is built upon the framework of an inclusive and productive work environment. We believe in the power of good karma – that the intentional and responsible decisions we make every day can have a profound and lasting impact on society. We want to maintain a culture that makes our employees excited to come to work and support our customers missions each day.  Promoting positive employee morale and getting to know your colleagues on a personal level builds lasting relationships and directly increases productivity.  
Tyann's newsletter features an employee spotlight section, so her team can learn more about each other. For these spotlight articles, she interviews team members to find out more about their lives outside of the office. Tyann has also organized several social events for her team to relax and get to know each other better. These include Top Golf outings and BBQs, and she is currently planning a team Step Challenge.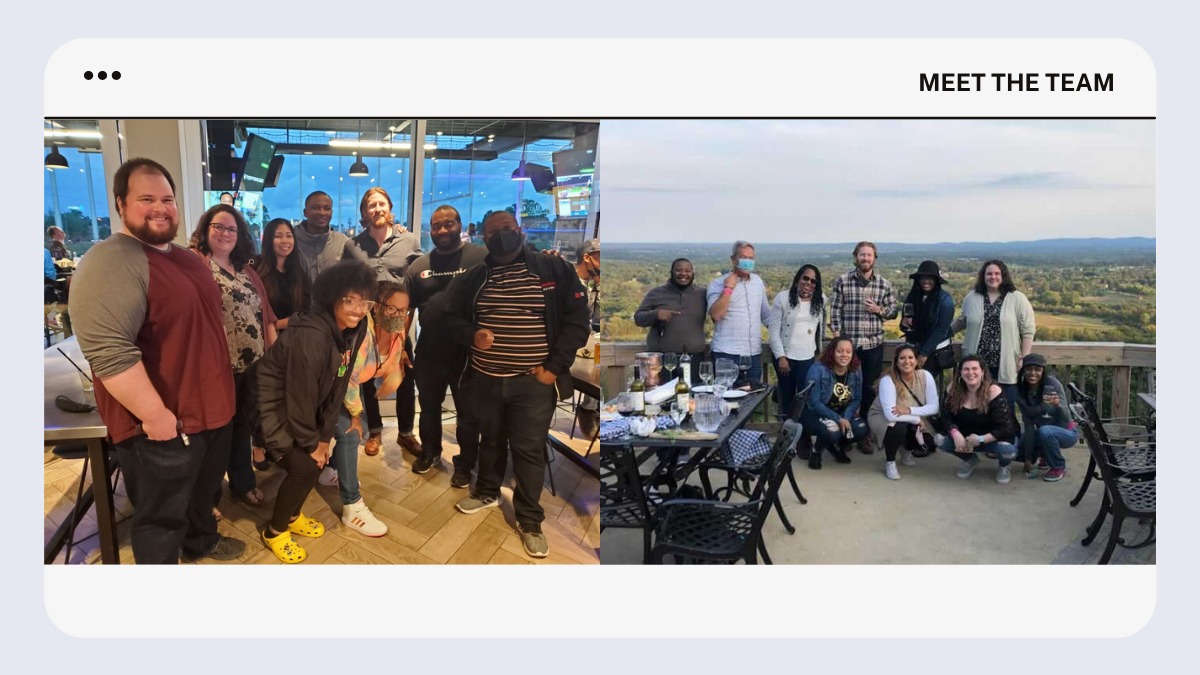 When coworkers know each other well, it creates a more collaborative environment where innovation is born. A joint study conducted by the Institute for Corporate Productivity (i4cp) and Rob Cross, Edward A. Madden Professor of Global Business at Babson college found that companies that promoted collaborative working were five times as likely to be high performing.  
Mental Health and Wellness
Tyann values the importance of the role that leaders play in supporting their employees professionally and personally. Her newsletter encourages staff to take care of their mental health. 9 in 10 employees report that workplace stress affects their mental health, and 3 in 5 employees are not receiving adequate support from supervisors to help manage stress. These statistics also inspired Tyann to create her newsletter; one of its goals is to give her team a measure of lighthearted relief from their hectic work lives. In the newsletter, she gives suggestions on relaxing locations outside of work that can provide an outlet for tension release.  
Tyann's efforts are helping to directly combat costly challenges that result from employee burn out, such as: absenteeism, reduced productivity, and even health care and disability costs. Better workplace mental health policies and practices, like those implemented by Tyann, improve employee productivity and quality of life. 
… 
Tyann is an exemplary leader, and her contributions to her team, the SETS program, and RIVA's culture make her a role model in our company. As one of our first Alpaca Ambassadors, she is bringing RIVA's corporate culture to her team onsite at NOAA. Want to learn more? We are always looking for new talent and motivated individuals to join us, click here to see our job listings.