June 23 is International Women in Engineering Day (INWED). INWED is an international celebration acknowledging the work and achievements of women engineers who remain underrepresented 2:1 to their male counterparts. Engineering shapes the world and helps make our planet a better, safer, more innovative, and exciting place to be. This day provides us with an opportunity to celebrate all women in engineering. Let's meet one of our superstar engineers, Sharday Jacobs!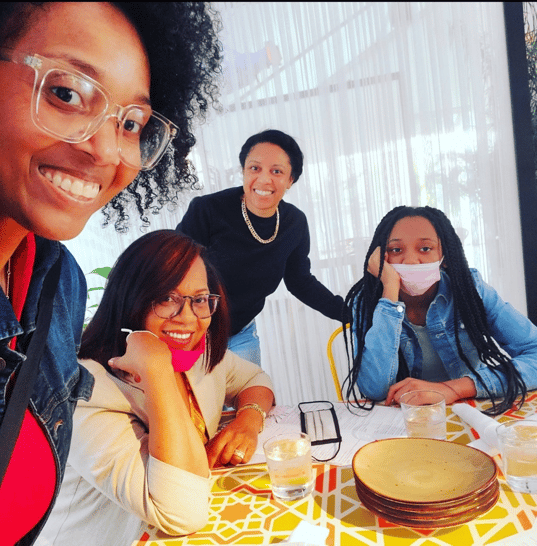 Left to Right: Sharday, her mother, sister Cherice, and daughter Atiara out for Mother's Day 
Sharday Jacobs  
Is a Chief Engineer for the SETS Contract for the National Oceanic and Atmospheric Administration (NOAA) under the National Environmental Satellite, Data, and Information Service (NESDIS) Office of Satellite Ground Services (OSGS).  
Get to know Sharday! 
What do you do at RIVA? 

 
 My team manages all sustainment and new mission activities for Environmental Satellite Processing Center (ESPC) from different domains like security, infrastructure, requirements, product distribution/generation, design, and more. As Chief Engineer, I am a resource to my team to ensure each domain activity and request from our government customer is appropriately executed. Someone may come to me to request coordination of new projects like Cloud integration, tech refresh activities, etc.  
What led you to this career? 

 
The short answer is my mom. Before my career as a Systems Engineer, I worked in the Electrical/Mechanical Engineering field. I've watched my mom build her career in systems engineering over the years and saw how much she enjoyed the learning process. When she saw an opportunity to bring me on board, I couldn't say no.  
What behavior or personality trait do you most attribute to your success, and why?

 
My optimism. I am super open to new adventures. I don't look to fail in the future. I see each opportunity as an experience. I try not to turn down opportunities presented to me, which got me here today.  
What advice would you give your teenage self? 

 
Relax and have fun. I was a worrywart as a teenager. I was hoping to excel and make myself proud of my achievements that I have forgotten to celebrate each milestone along the way.   
What's the best advice you were ever given? Who was it from? 

 
The best advice that I ever received was that "Failure is a learning lesson." I still struggle with confidence in my work because I'm not too fond of the feeling of failing. Getting this advice has changed my outlook on what failing looks like. I now take each lesson learned to grow and move with more confidence within myself. This advice came from RIVA's very own Paul Black.