Oceans cover over 70% of the Earth and are the lungs of our planet, producing at least 50% of our oxygen. They are home to most of Earth's biodiversity, and produce the main source of protein for more than a billion people around the world. 
Despite the importance of our oceans and the benefits they provide to us, oceans need our support. 

With 90% of big fish populations depleted, and 50% of coral reefs destroyed, largely due to overfishing and pollution. The fact of the matter is, we are taking more from the ocean than we can replenish. To protect and preserve the oceans and all they sustain, we must create a new balance, rooted in a true understanding of our oceans and how human activity impacts them. We must build a better relationship with our oceans that is inclusive, sustainable, innovative, and informed by lessons from the past. 
In this blog I will discuss what World Oceans Day is, why it is important, how to celebrate it, and how RIVA and the National Oceanic and Atmospheric Administration (NOAA) are supporting oceanic conservation efforts.
What is World Oceans Day? 
On December 5th 2008, the UN General Assembly designated 8 June as World Oceans Day. It serves as a reminder of the major role the oceans play in everyday life. Oceans are our life source, supporting humanity and every other organism on earth. Oceans are key to our economy, with an estimated 40 million people employed worldwide by ocean-based industries by 2030.
The purpose of World Oceans Day is to inform the public of the impact of human actions on the ocean, develop a worldwide movement of citizens for the ocean, and unite the world's population on a project for the sustainable management of the world's oceans.
This year's theme is " The Ocean: Life and Livelihoods," a declaration that launches a decade of challenges to reach the Sustainable Development Goal 14. This goal, as set forth by the UN, aims to "conserve and sustainably use the oceans, seas and marine resources," by 2030.

RIVA and NOAA's Ocean Conservation Efforts
RIVA and NOAA have a long-standing partnership forged on the common goal of preserving the environment for future generations. I serve as a Chief Systems Engineer and Deputy Program Manager for NOAA's National Environmental Satellite, Data, and Information Service (NESDIS) and Systems Engineering and Technical Services (SETS) for Team RIVA.
RIVA's SETS work with NOAA contributes to the mission of sustaining and revitalizing the oceans. Our SETS team's engineering efforts with the Product Distribution and Access (PDA) system ingests, generates, and distributes data algorithms as a primary component to this mission. These algorithms are compiled into over 900 weather products, ranging from the Active Fires (AF) product to the Sea Surface Temperature (SST) product. The SST product is the measurement of the ocean's surface water layer (skin) temperature. The temperature metrics are derived directly from the PDA system's mission partner satellite radiances. Once these data sets are ingested into the PDA system, the algorithm is then generated within PDA's product subsystem or the NOAA Data Exploration (NDE) system. This can range from product outputs of raw data to higher-level quality products that are combined with additional products and or ancillary data (retrieved from military ships, buoys, planes, etc).
We achieve mission success when our NOAA partners, such as NOAA Coral Reef Watch (CRW) or the National Weather Service (NWS) and Navy use the SSTs for continuity of operations. The 5-km Blended SST analysis helps us to monitor sea surface temperature conditions to assess how we can better sustain the ocean environments and coral reefs. This is accomplished in collaboration with the Environmental Protection Agency's (EPA) Clean Water Act programs that protects water quality in watersheds and coastal zones of coral reef areas based on those metrics.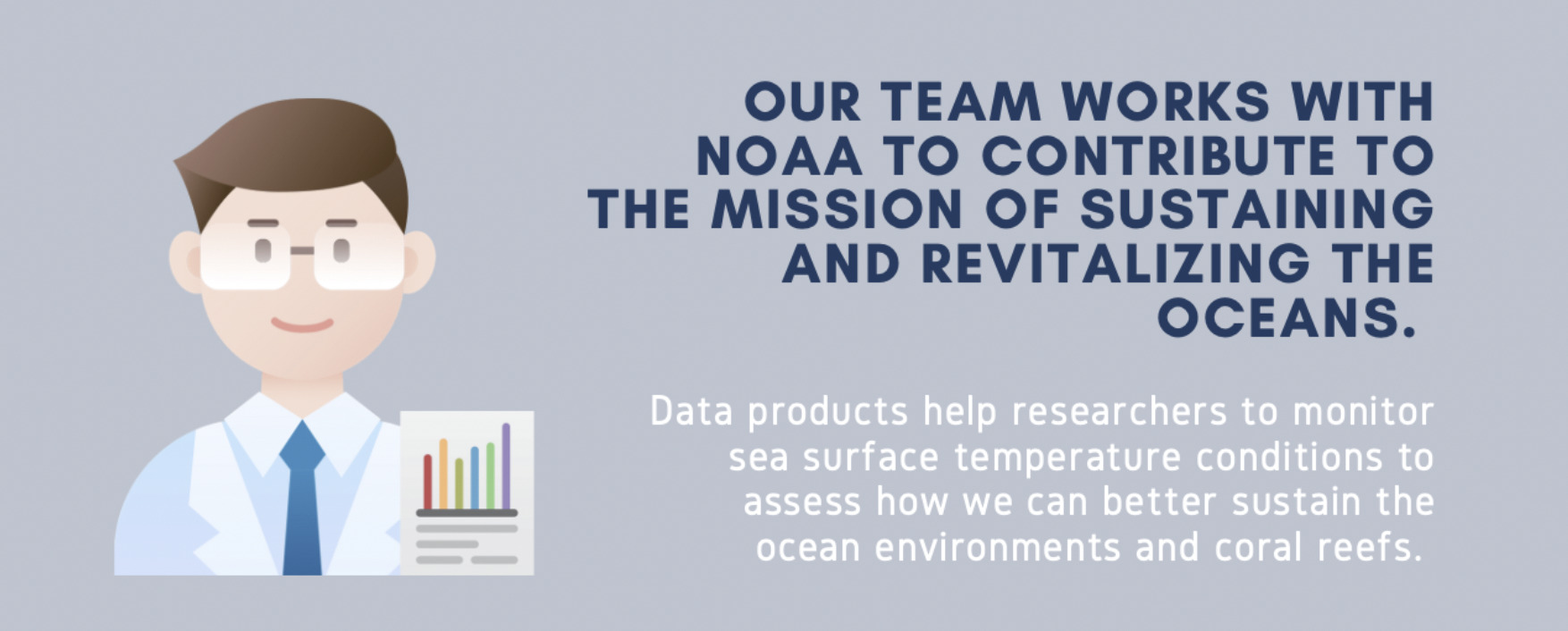 How to Celebrate World Oceans Day
There are many fantastic ways to get involved in World Oceans Day, and align yourself with like-minded individuals who think beyond the walls of their workspace to embody the spirit of change and conservation.
So, are you ready to join RIVA and NOAA in creating a weather-ready nation, and advancing the mission of sustainability and healthy oceans into the future?