Thank you RIVA Veterans!
Today we recognize all the courageous men and women who served in the U.S. military. Your service, sacrifice, and dedication are the cornerstone of what keeps our country safe and free. From all of us here at RIVA thank you for your service!
At RIVA we have the honor of working side by side with active and retired military members every day as both customers and employees. Join us in acknowledging these esteemed members of the RIVA family as we celebrate their sacrifices and honor their legacy of courage and dedication.
These outstanding and exemplary men and women include:
Darell Cornelius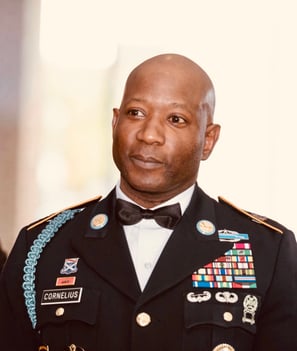 Darell served in the U.S. Army from 1988-2018. Darell joined the Army in part to explore and venture out from the state of South Carolina. In doing so he discovered a brotherhood and a sense of patriotism for America that compelled him to embark upon a military career. One particularly memorable event for Darell was on September 11, 2011.
"I was in Arlington cemetery performing a funeral service for a deceased service member, I will never forget watching that airplane fly over the cemetery and crash into the Pentagon that day. At that point I had no knowledge of the New York attacks but when I learned we were being attacked, I never had such love and passion for America and wanted to get the people who were responsible for attacking our country. So I [deployed] multiple times in those efforts." 
Jack Richardson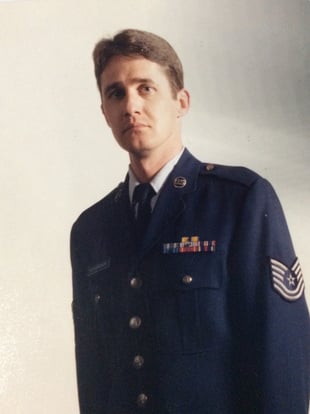 Jack Served in the U.S. Air Force from 1977-1997. He joined the Air Force to gain valuable lifelong experiences outside of rural America. Jack worked communications during 40+ active missile attacks on Israel coordinating communications between heads of State and U.S. department secretaries.
David Boyle
David served in the U.S. Army from 1980 – 2019. He explains why he originally chose to serve simply, "Long story short. If they pay for my tuition, then my dad won't have to, and [then] he [couldn't] give me a hard time." Over time, the army instilled lifelong values and David came to love a soldier's life. During his illustrious career, David had many noteworthy moments including: building roads in Honduras, constructing schools in Panama along the Columbian border, getting cussed out by a Colonel at U.S. Army South, and holding hands with grown men in Afghanistan. David says it best himself:
"Some experiences were great, some fun, and some very uncomfortable. All were part of my Army life. From a 17 year old Private in Ohio to culminating my career as a senior leader working alongside many fantastic service men and women in the Missouri National Guard; a true blessing throughout!" 
Susan Scott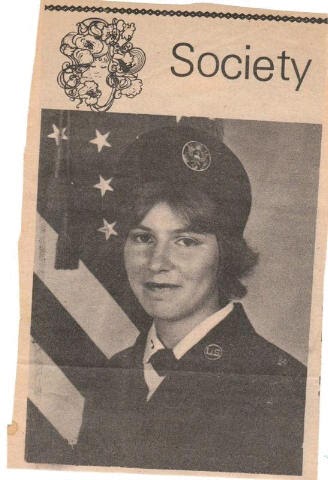 Susan served in the U.S. Air Force from 1977-1995. What started as an opportunity to work in the career field of accounting and finance would ultimately culminate in an enduring learning experience. Susan came to understand the fundamentals of responsibility, duty to others, and how to discipline oneself to be a part of something bigger than herself. In doing so she made many lasting friendships among her brothers and sisters in arms. Susan details a particularly exciting experience involving the fall of the East Berlin wall. During this time she was the Chief of Disbursing at Rhein Main Air Base, Germany. She describes the experience as follows:
"The U.S. sent planes to various locations within Russia to bring in supplies. On each plane the pilot carried a gun and there was a disbursing agent to my office as the Russians would only take U.S. dollars. I was running the funding operations and have a picture somewhere sitting on $10million dollars in 20s. The U.S. couldn't send larger bills due to counterfeiting. We went to Berlin two weeks after the fall of the wall and I still have a piece of concrete from the wall of an inner watchtower." 
Roger Schweitzer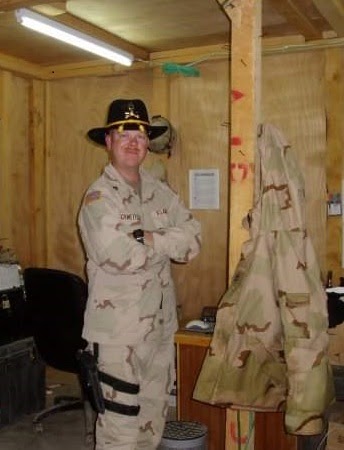 Roger Schweitzer served in the U.S. Army from 1989 – 2015. Roger's driving force behind joining were philosophical and ethical convictions concerning political dogma. Roger experienced many remarkable events and memories during his time in the military. He most treasures his opportunity to serve with some of the finest men and women he's ever met.
Steve Loving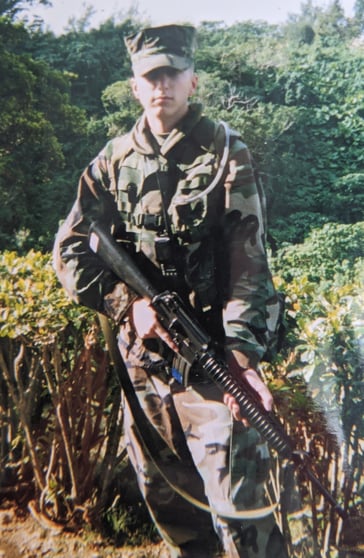 Steve served in the U.S. Marine Corps from 1998-2002. Mr. Loving joined the military in order to serve our country, make a difference, and be a part of the most elite military branch in the world. He recalls one particularly eventful moment on one of his tours which involved the events of 9/11:
"The immediate impacts it had to the current state of the military, shifting to wartime readiness, and ultimately receiving orders for me to transfer to Okinawa, Japan were I provided augmented security support to the 58th Signal Battalion and I ultimately supported Marine Forces Pacific and our communications back to D.C."
David Callner 
David served in the U.S. Army from 1994-1998. David's journey to the military began early on. In high school he was an All State football player who received 30 scholarships to play in college. He sums up his experience succinctly:
"The US Army served me; I did not serve in the military. What I mean by that is that the Army did more for me than I did for the military. I learned the most important part of life which is to be thankful for every little thing that you have. I also learned what is worth putting your own life on the line for, and that's what we have in this country: Life, Liberty and the pursuit of happiness." 
Mr. Callner recalls one defining moment detailed below:
"Landing in Bosnia and the back door gate opened to the C-130 and not knowing what to expect when leaving the plane. We ran through a maze of cones that separated us from landmines. It seemed everywhere you looked [there were] landmines, graffiti, and blown up buildings with bullet holes. I was the first one off the plane and ran my way into the back of the 2 1/2 ton cargo truck. As we left the airport I remember seeing this man mow his lawn. His house had bullet holes everywhere and I noticed sticks with flags on them in his yard. As we drove by he paused mowing to grab a stick and wrapped a ripped tee shirt on it and stuck it in the ground. I looked over at one of the soldiers that picked us up at the airport that was already on tour for a while and asked him what he was doing. He looked at me and said that he was marking a landmine. That moment everything was put into perspective." 
We all share the responsibility of caring for our veterans. Take a moment to reach out and listen to the incredible stories these brave men and women have to share. Let them know you've "got their six" – especially during these difficult times of isolation and social distancing. This Veteran's Day and every day: call, email, reach out, a few minutes could make a world of difference.
Thank you for taking the time to remember and honor our heroes!